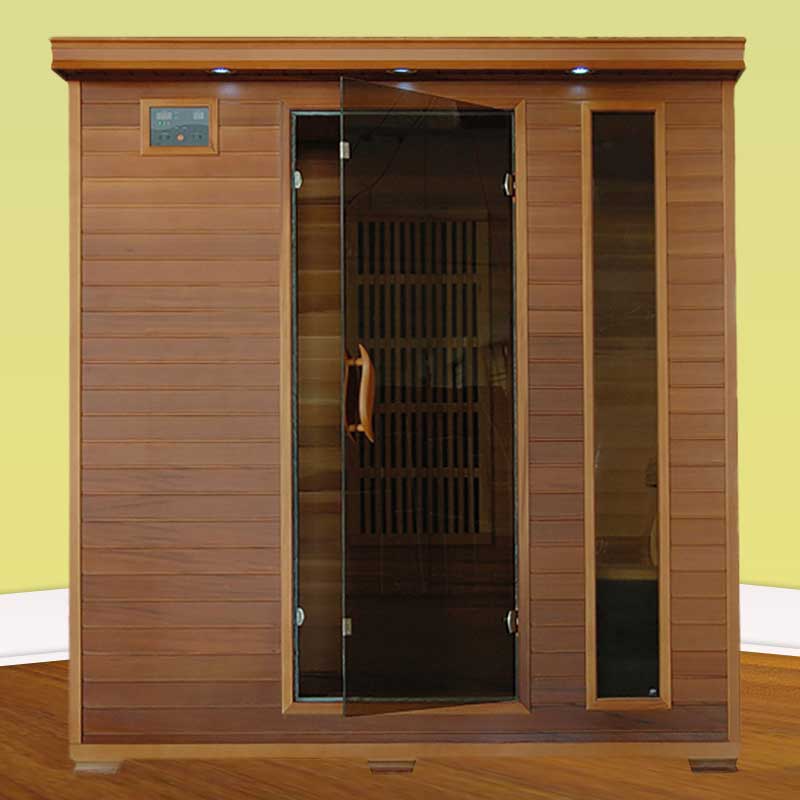 We are excited to share our new line of Cedar Wood Home Saunas.  We thought we should share this model as its 1 of our favorites. You can view the full line of our new saunas here.  The whole line has very nice finish you will be proud to have this in your home.
Our Perfect Heat Klondike Plus 4 person cedar saunas are construted of 100% premium Canadian Red Cedar, known for its strength, refreshing aroma, color variation and resistance to fungus and mildew. Sturdy tongue and groove construction is sure to stand the test of time. This unit features carbon far infrared heaters for the best in the Total Spectrum far infrared heat and the most health benefits. Each unit has its own ionizer to clean the air so you breathe clean, pure, sanitized air. It's the perfect addition to any home gym, pool area or personal spa!
Hand finished cedar wood looks great in any room in the house. The dual interior and exterior LED control panels allow for easy temperature control. The Klondike Sauna comes with 8 Carbon far infrared heaters that operate up to 141°F. 2 heaters are located on each side wall (4), 1 on the front of each bench (2) and 2 heaters are located in the floor. The smooth, quiet operation evenly basks you in soothing far infrared heat. Carbon infrared sauna heaters emit far infrared wavelengths from 5-12 microns, the portions of infrared heat that most benefit the human body.
Each unit comes standard with full color changing LED lights, for a full Chromatheropy experience. The Klondike sauna has a smooth finish on the exterior. It also features a large, full-view, glass door and top to bottom windows for an open, airy feeling. Includes towel and magazine racks, stereo with CD Player and auxiliary mp3 plug-in, and moveable cedar backrests so you can kick back to your favorite tunes. The Klondike is perfect for basking in the warmth with family and friends. Add one to your home today!