Hudson Bay Ultra 3 Person Carbon Infrared Home Sauna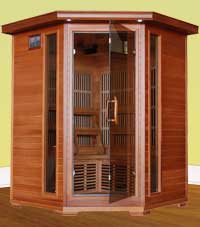 This three person sauna is guaranteed to please.  With free shipping and a lifetime warranty it is the perfect way to stay warm for the winter.  Any home can now become a retreat.  All Perfect Heat Plus saunas are constructed of 100% premium Canadian Red Cedar, celebrated for its strength, refreshing aroma, color variation and resistance to fungus and mildew. Sturdy tongue and groove construction is sure to stand the test of time.  This style can conveniently fit in any corner of your home.
Beautiful and full of functionality. The extras include a stereo with CD Player and MP3  plug-in, towel rack, comfortable back rests.  In addition there are color therapy lights and an ionizer.  The temperature can easily be controlled from inside the sauna or out with two LED control panels. The Hudson Bay sauna provides perfect relaxation for the whole family.
The 7 carbon far infrared heaters. spread evenly throughout the sauna from the back walls, the bench, and on the floor will ensure an even heat throughout. The heaters operate up to 141°F to evenly bask you in soothing and quiet environment. Total Spectrum sauna heaters emit far infrared wavelengths from 5-12 microns, the portions of infrared heat that most benefit the human body. Each unit comes standard with full color changing LED lights for a full chromatherapy experience.
The Hudson Bay sauna also features a large, full-view, glass door and top to bottom windows for an open, airy feeling. Create your own personal spa-like getaway right in your own home with the Hudson Bay sauna!
Visit our website at FamilyPoolFun.com for more information on all of our Saunas.