ATV's and Hunting Are the Perfect Combination for More Ground and More Muscle!
While purists may vouch for the ultimate approach to hunting is the tracking one does on his own two feet, the fact is people don't have an entire week to track down an animal walking. Hunting with an ATV, however, allows a hunter to cover significant mileage quickly to enjoy and afternoon of sport. As a result, ATV hunting is gaining fans among hunters near and far.
With an ATV a hunter can cover lots of ground and access trails a truck could never get through physically or without causing a whole bunch of environmental violations. Further, ATVs allow a hunter to bring along equipment and supplies for extended stays, carrying far more for overnight wilderness sleeping than an expedition backpack could contain or attach.
Finally, when that big game is caught, how is it going to hauled back to camp or a vehicle on foot? Most game can weight hundreds of pounds, far too much weight for the average hunter to carry on his own or with help strung up on a tree trunk pole. With an ATV, that dead weight can be simply tied to the back of the ATV and hauled along with everything else and the rider without a problem.
With the wide market available today, there are dozens of ATVs to choose from for hunting, so it's good to do a bit of research and work with a vendor that carries multiple models. The most basic ATV can cost under $2,000 while the most equipped, professional model could be well over $11,000 per unit. As a result, it's important to understand one's experience hunting, riding off-road vehicles and then the specifications offered in different models.
Family Go Karts provides both a traditional store and online expertise for ATVs, including models specifically equipped for hunting use. All units are reliable for transportation to remote locations in the wilderness and returning, and we service customers in both the U.S. and Canada year-round.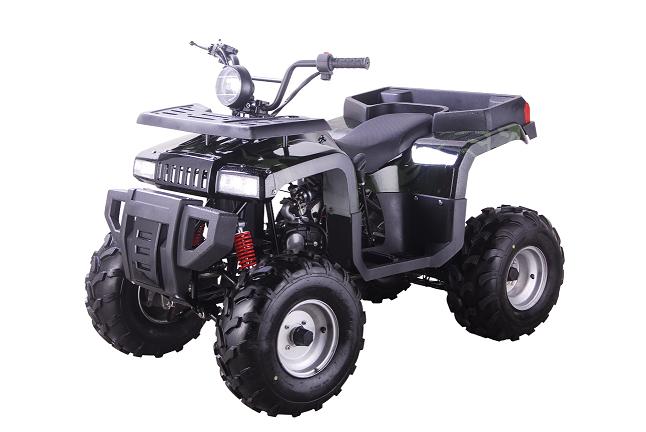 The B400X Full Size 4×4 Utility ATV provides a hunter-ready unit for the experienced driver complete with extra railing for attachments and cargo securing. In addition the body has high clearance and dual suspension for rough road riding and wet conditions. The transmission incorporates a shaft drive for reliable gear changing versus that with a chain drive. Good traction on the tires makes the B400X an excellent candidate for use as a trail scout or a weekend hunt.
T150BX Utility ATV provides a nice budget-level, fully-equipped ATV that can easily manage both an extended hunting trip into the wilderness as well as chores on the ranch during the weekdays. The tube frame as well as the powerful two-stroke engine propels this ATV up to 40mph on off-road trails without weakness vibrations. For those starting out, the automatic transmission avoids all the learning involved with a clutch, allowing people to enjoy riding instead of beginner's frustration.
Again, Family Go Karts is a nationwide serving operation with online service to answer questions and help with ordering. Call us and let our experts help you find the right ATV for that next hunting trip.