Look inside any given vehicle on the road are more often than not, you'll see a single person and plenty of empty space for other passengers, groceries, and various other cargo. While most people do haul all of that and more on occasion, a lot of people do many things on their own while they have very little to carry. It's many of these people who get to their destinations are talk about the price of gas, and look for ways to be friendlier to the environment, One way to accomplish both these things is to invest in a scooter.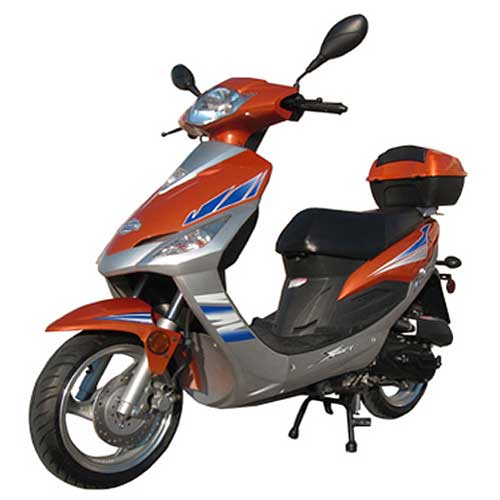 Many people who are looking for a more fuel efficient way to commute close to home and run simple errands weight in their minds whether they should get a motorcycle or a scooter. While a motorcycle has more power and speed, and also much better gas mileage than a regular automobile, there are some clear advantages to rising a scooter.
Easy Ride
Unlike a motorcycle that requires extensive training to learn the ins and outs, scooters are practically hop on and go. Many people simply don't need all the power of a motorcycle. There's also the advantage of a small trunk included on a scooter, where this is not the case for motorcycles.
Scooters are also lighter and carry less gas than motorcycles, usually about a gallon or so, but with mileage levels at 100 miles per gallon, you can still get a lot done on a scooter. There are various different models of scooters available, but the main choice might be whether you want a simpler scooter that reaches speeds around 30 mph, or something with a little more "oomph" that will get you going closer to 55 mph.
It all depends on what you need it for. Parents of teens sometimes choose opt of the lighter model because they feel better if they can keep their kids off the highways and freeways, and the lighter model is still very efficient when it comes to getting to school, their local job, or to their friend's house. Of course, scooter drivers still should wear a helmet and protective goggles in order to keep safe on the road.
College students also love their scooters because it provides a quick and easy way to get around campus without spending a fortune on gas. They also won't feel compelled to give their friends rides if all they have is a scooter.
Less Expensive
If saving money is an issue, as it is for most people, the low cost of a scooter may go a long way in persuading you to buy one. A new scooter will usually cost less than half of what a used motorcycle will cost and is easier to maintain.
Parking is also easier, and less expensive, when going to the city, since scooters often have the option of sharing parking areas with bicycles.
If you're using your scooter as a second vehicle for those times when the car is just too much to take out, chances are you will find your scooter paying for itself in next to no time.
The Fun Factor
Besides all the practical purposes that scooters bring to your life, it can't be ignored that riding around on these little machines can be a lot of fun. Anyone who has thought about a motorcycle, but came to the conclusion that it was "too much" will love being able to get from place to place. Tempted? Check out some of our scooters today!