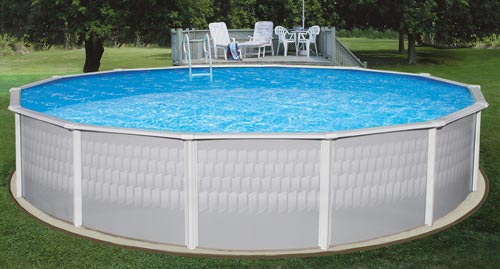 Do you want to have fun this summer in your new swimming pool, but you are not sure which one is right for you? Take a look at these (3) options and you decide just how much fun you want to have.
The Barbados is a great pool with tons of features. If you want a round pool with all the trimming this is the pool for you. Here are some features you will not find any place else:
52 inches round and sit above the ground
· Available in 48 inches as well
· Pure steel
· Corrosion resistance is built in
· Top rail is made from 6 inches of steel
· Side posts are made from 5.5 inches of steel
· 7 Galvanized layers of coated Star Galfin
· Comes in round or oval shaped
· Oval model has buttress support
· 30 year warranty
The Barbados is built to last a life time. The 6 inch top rails measure over 1 foot high. The seat covers are made from resin and the resistant fasteners are 100% rust proof. The Barbados will not peel, rust, fade or chip because it is made from only the highest quality of materials.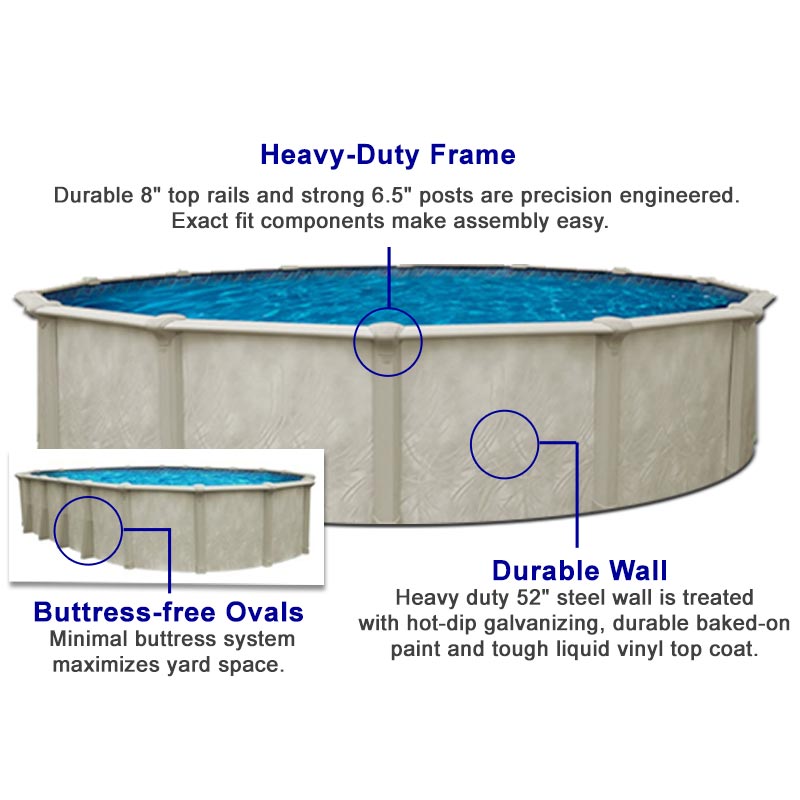 The 52 inches Opera above ground pool is durable and long lasting. It has many great features that you and your family will love. The party does not start until you enter the pool. The Opera is guaranteed to be the life of the party. Enjoy these features for a very long time:
52 inch steel Heavy duty frame and wall
· 8 inch steel top rails
· 6.5 steel post
· Easy financing options available
· 8 layers of Liquid Galvanized coating
· Available in round or oval sizes
· Non Buttress needed
· 40 year warranty
The Opera sings a great song and it comes with many additional features that will leave you singing in the pool. Pool owners can choose from several liner designs. The pool wall is layered, well constructed, color coordinated, and double edge protected with stain steel fasteners. What more can you ask for in a pool?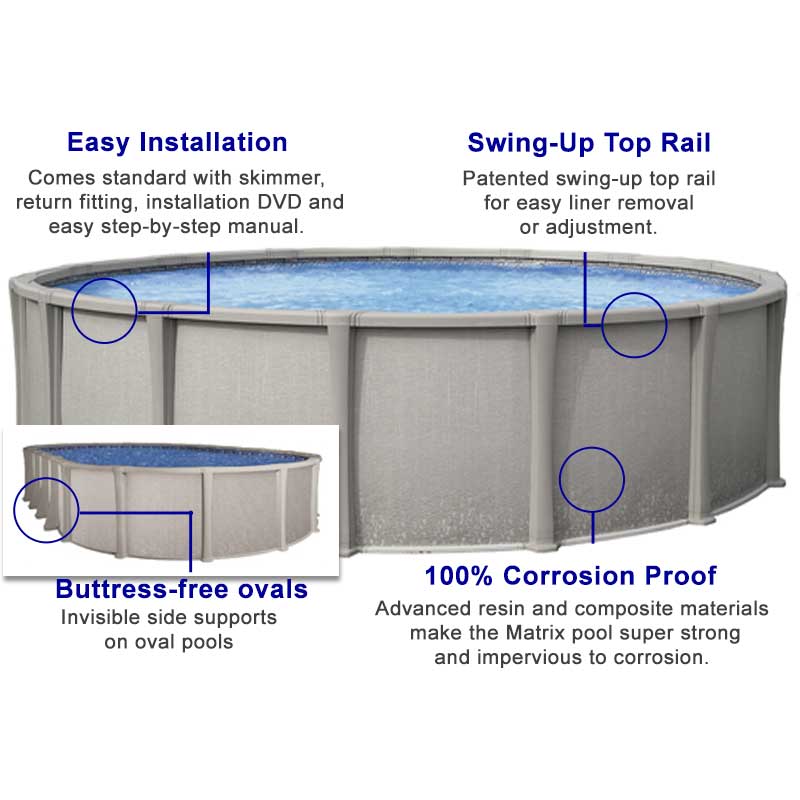 Be the talk of the neighborhood with the Matrix 54 inch Resin Pool that sits above the ground. Setting up the pool and getting it ready for the summer is a piece of cake. It comes with an instructional manual that outlines the installation process, the return fitting and a DVD. The liner is easy to adjust or remove using the swing up top rail, with hinges attached. Here is what to expect from the Matrix:
· Resin coating for corrosion resistance
· 54 inch steel wall
· Available in round or oval sizes
· No Buttress support needed
· Made in the United States
· Comes with a 60 year warranty
· 75 day hassle free return policy
· Hinged top rails for easy liner removal or adjusting
Fun in the sun, relaxing by the pool, and entertaining guests is exactly the kind of entertainment the Matrix has to offer. It is beautifully designed with high tech features and qualities that compass other pools.