You love your outdoor pool area. You can take a swim, entertain friends, or lounge on your outdoor furniture. The only thing that would make the pool area perfect is a poolside patio umbrella.
Poolside patio umbrellas makes lounging in chairs and eating at the outdoor table more enjoyable. They offer the perfect shade from the hot sun and can normally be adjusted to give you ultimate comfort anytime during the day. Before purchasing a poolside patio umbrella, always measure the width of your patio area to ensure the umbrella base can sit securely without hanging over the patio tiles. Locate a level area where the umbrella can't tilt over.
Below are three different poolside patio umbrellas that may fit into your needs.
Santorini 10′ Square Cantilever Umbrella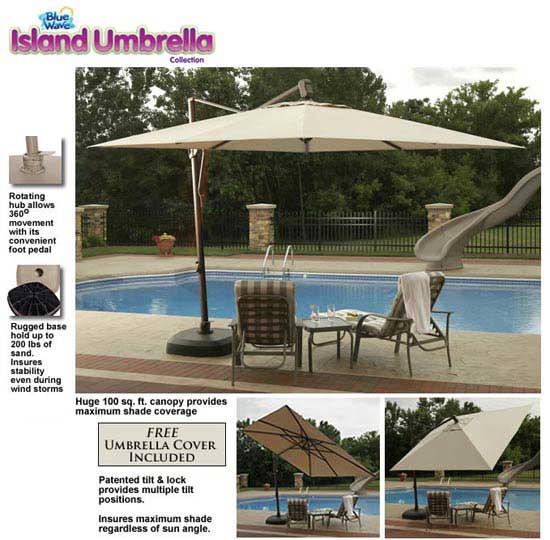 The Santorini 10′ Square Cantilever Umbrella is large enough to shade two people comfortably while sitting in lounge chairs and enjoying a drink. This poolside umbrella provides 100 square feet of shade under its 10-foot by 10-foot square umbrella. To prevent the wind from filling the inside of the umbrella and inverting the fabric during breezy days, a single top vent allows for adequate air flow.
The umbrella is 9-feet, 10-inches high on an anodized aluminum pole with an integrated crank to raise or lower the umbrella fabric. The base can hold up to 200 pounds of sand to give the umbrella a sturdy anchor. Special features of the Santorini Cantilever Umbrella include a tilt and lock mechanism so you can position the umbrella to catch the sun's rays at any angle. The base also has a foot pedal so you can rotate the umbrella up to 360 degrees for easy positioning.
10-foot by 10-foot umbrella square canopy gives 100 square feet of shade
Available in two grades of fabric: Olefin or Sunbrella Acrylic
9-feet, 10-inch high with adjustable tilt and lock mechanism
Foot pedal offers 360-degree positioning
Umbrella comes with free cover
Square design gives a clean, modern look to your patio
Tobago 10′ Octagon Cantilever Umbrella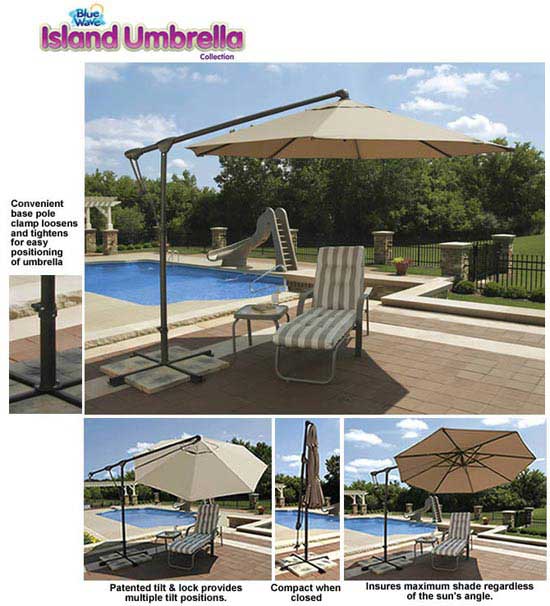 The Tobago 10′ Octagon Cantilever Umbrella allows you to customize your patio area for your unique needs. This 7-foot umbrella can accommodate one to two lawn chairs with optimal shade. The octagon shape gives a more traditional umbrella style as a crank easily allows you to open and close the umbrella without dealing with ropes or pulleys. The tilt and lock mechanism allows for you to adjust the umbrella up to 54-percent for the perfect shade all day long.
Instead of dealing with messy sand to stabilize the base, the umbrella has a cross arm stand where you can place 4 square stepping stones into the sectioned base. A convenient rotating hub allows for you to move the umbrella a full 360 degrees to place the shade anywhere you want it. A single vent at the top allows for air passage so the umbrella doesn't invert on windy days.
7-foot tall umbrella has an anodized aluminum pole for sturdiness.
Umbrella shade made of Olefin fabric for durability
10-foot canopy gives excellent shade while lounging on patio.
Tilt and lock mechanism allows you to adjust canopy up to 54-percent.
Rotating hub base provides 360-degree adjustment to place shade anywhere.
Sectional base only requires patio tiles for stability
Seabrooke 10′ Square Cantilever Umbrella With Base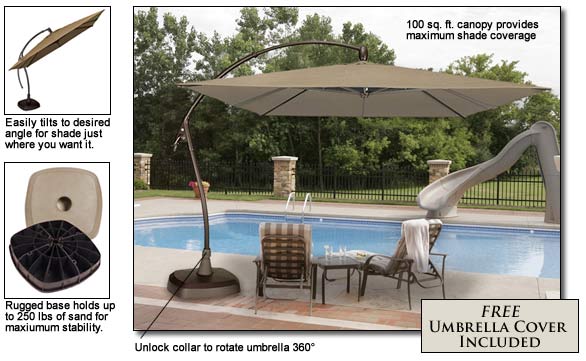 Seek a bit of beautiful bronze with the Seabrooke 10′ Square Cantilever Umbrella with Base. This 10-foot, 25-inch umbrella has an aluminum pole covered in a bronze frame for an elegant style. The 10-foot by 10-foot square umbrella gives you up to 100 square feet of shade for family and friends. Easily swivel and tilt the umbrella with the tilt and lock mechanism to place the shade in any direction for protection from the sun.
The umbrella allows for 360 degree positioning with a base collar that swivels and locks. Place 250-pounds of sand into the base to give the umbrella optimal stability. A single vent along the top prevents the umbrella shade fabric to invert from strong winds. Unlike other patio umbrellas, the Seabrooke Square Cantilever has a light adapter so you can attach an umbrella light when you want to lounge on your patio on the warm evenings.
10-foot, 25-inch bronze frame on an aluminum pole.
10-foot by 10-foot umbrella offers 100 square feet of shade as a vent prevents the umbrella from inverting on windy days.
Tilt and lock mechanism allows you to place umbrella where it offers the most shade.
Rotating swivel function gives 360-degree positioning of umbrella
Umbrella fabric made out of O'Bravia Polyester
Anchor base with 250-pounds of sand